With a lot of popularity revolving around disposable vapes, you might find yourself asking questions like: What are disposable e-cigs? How much do disposable vape kits cost in comparison to standard vape kits and cigarettes? How do I recycle disposable electronic vapes? We're here to bring you some clarity and answer some of the most frequently asked questions about disposable vapes.
What is a disposable vape?

A disposable vape, often called a disposable e-cig, is a vape kit that can be disposed of after the battery runs out or after the vape juice has run out. They're easy to use right out the package and require no setup. Disposable vapes come prefilled with 2ml of vape juice which means you don't have to refill your vape device with vape juice. You also don't have to worry about charging the device as the internal battery is not rechargeable. Once you are done with the disposable vape kit, you would responsibly dispose of it.
How does a disposable vape work?

Disposable vapes consist of a non-rechargeable battery, vape coil and a 2ml vape tank which comes prefilled with vape juice. Upon inhaling the vapour from a disposable vape kit, the disposable vape kit's battery assists in heating up the coil within the kit and heats up the vape juice and creates the vapour. Disposable vape kits offer a similar vaping style to that of traditional smoking which means you'll produce modest amounts of vapour on the exhale. You'll also notice disposable vapes typically have a smooth throat hit as they're filled with nic salts, which are designed to deliver a quick rush of nicotine.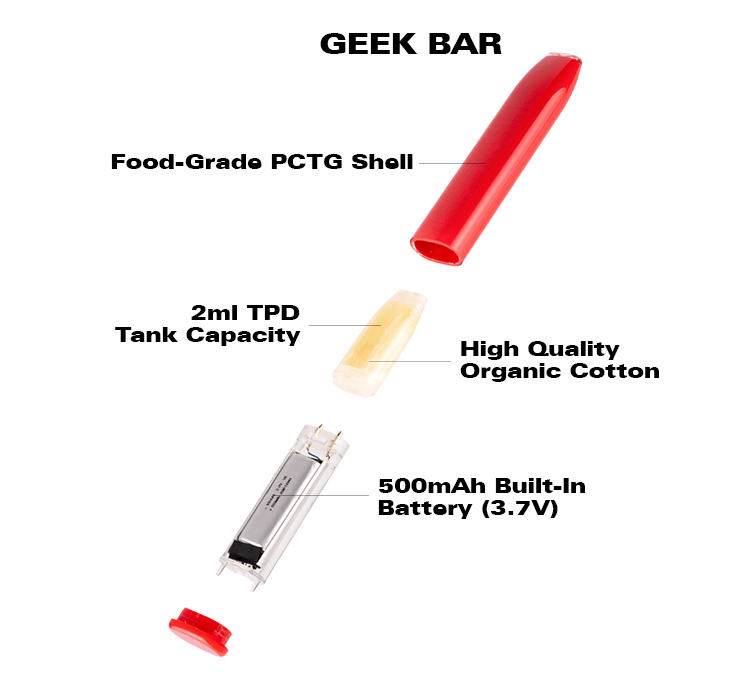 How much does vaping cost?

Chances are, if you're reaching for a disposable, you are a current smoker who is weaning off cigarettes, or you're a vaper who uses disposable vapes for convenience or travel. Or maybe you would prefer not to bring your fancy and expensive vape kit whilst you're on the go — We get it. It's easy and convenient. But it's costing you more than if you bit the bullet and purchased a couple vape juices which would last you around 2-3 months.
The average cost of a disposable cigarette sits around £5.99. Disposable vapes are popular because they are convenient and easy to use. You also don't have to be fussed with vape juice refills, replacement parts or vape coils and they're ready to be used right out of the box. Whilst disposable vapes have their advantages, they cost you more in the long run.  
We've crunched some numbers to give you an idea of how much money you're spending on disposable vapes compared to if you purchased your initial vape kit, vape juices and vape accessories. The average vaper spends £15-40 on a starter vape pen or pod kit.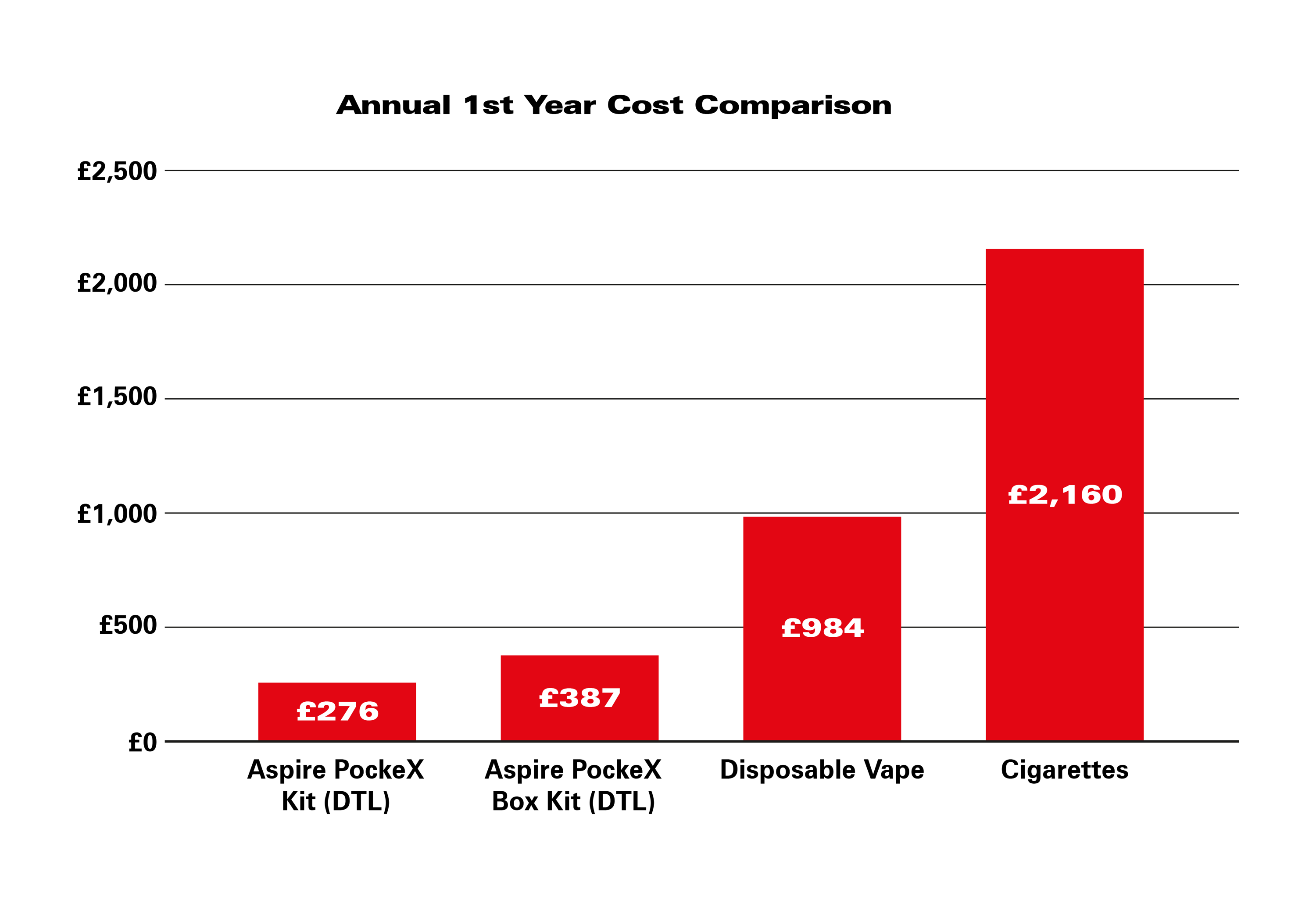 If you're a mouth to lung vaper, which would conclude you like a tighter draw, throat hit on the inhale and a higher dose of nicotine, you'd likely purchase a 10ml bottle of 50-50 vape juice (which is the equivalent to 100 standard cigarettes). This 10ml bottle would last you around 5 days if you're a moderate or heavy smoker. A 10ml bottle of 50-50 ranges between £2.39-12.75. If you purchased a 50-50 vape juice at £3.99 and it on average lasted you 5 days, you'd spend £72 in which your vape juice should last you 3 months. If you purchased an Aspire PockeX Box vape kit at £29.95 along with spare vape coils at £13.95, you'd spend £116. Your cost for the year on vaping products would roughly be £387 your first year.
If you're a direct to lung vaper, which means you enjoy a cloudy exhale minus the throat hit, a 50ml vape juice should last you around 2-3 weeks whilst a 100ml of vape juice should last you 50 days. A 50ml will cost you anywhere from £6.39-£11.99. A 100ml shortfill and nic shot should last you around 50 days and will cost you around £7.19-15.99. You'd likely purchase two 100ml vape juice shortfills at £13.59 each with 4 nicotine shots at £1.90 each, which totals to £35 and should last you 3 months. If you add the initial vape kit like the Aspire PockeX Kit at £23.95 and a multi-pack of vape coils/pods for £13.95, it would total to £38. Your cost for the year in spending on vaping products would roughly be £276 with £112 accounting for replacement vape coils.
The cheapest cigarette brand to date is £9.50 per pack. Cigarettes cost the average smoker £180 per month if smoking around 12 cigarettes per day which equates to £180 a month or £2160 per year. Not only is smoking an expensive habit but it contains over 3,000 harmful ingredients which can cause great illness with prolonged use.
Disposable vapes cost anywhere from £2.99 to £5.49 per individual device, with the average kit costing £5.45. Depending on usage, disposable vapes typically last around 500 puffs or approximately 1-2 days of constant usage. You should get around 2 days use out of your disposable vape which means you would spend £82 a month on disposable vapes which would cost you £246 during a 3 month period and £984 annually. This proves that although the initial purchase of a vape kit and vape juice is significantly more than the cost of maintenance, after you purchase your vape kit maintenance it is significantly less.
How to dispose of disposable vapes

Disposable vapes contain batteries and e-liquid which makes them hazardous to the environment and those in it. If a vape battery is not disposed of properly, its contents could leak into water where children and animals could come in contact with. Same goes for vape juices that have spilled over into the environment. For this reason, disposable vapes should not be disposed of in your general rubbish bin as it creates the potential risk to contaminate the environment. You should store disposable vape kits that have either run out of battery life or vape juice in one place. You should then take disposable vapes to your local recycling centre for them to be recycled and disposed of properly.

You can also carefully disassemble your disposable vape kit to remove all of its contents. You'll then recycle each piece accordingly. Any glass can be disposed of in your glass bin. Cotton containing vape juice and the vape battery should be disposed of separately. Recycle your vape's battery can be recycled at your local recycling centre or a supermarket near you. If you have any further questions on recycling disposable vapes please do not hesitate to contact us.