WITHIN THE TOBACCO PLANT
NICOTINE OCCURS LARGELY IN 2 FORMS: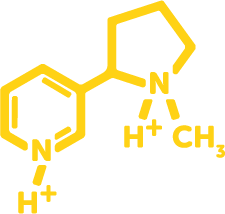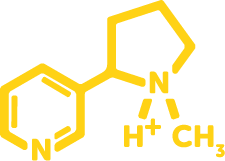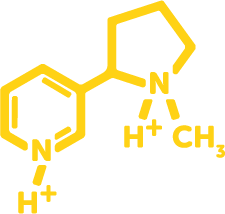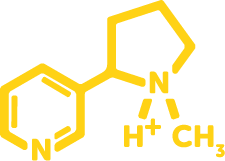 THEY ARE IONIC FORMS OF NICOTINE AKA NICOTINE SALTS2
IN MOST E-LIQUIDS AND CIGARETTE SMOKE
NICOTINE OCCURS MAINLY IN 1 FORM:
THIS IS NICOTINE IN ITS FREEBASE FORM3
1
IN CHEMISTRY, PROTONATION IS THE ADDITION OF A PROTON (H+) TO AN ATOM, MOLECULE OR ION.
DEPROTONATION IS THE REMOVAL OF A PROTON (H+).
3
THIS MEANS THE NICOTINE MOLECULE IS NOW FREE FROM THE PROTONS IT GAINED FROM THE REACTION WITH ACIDS. IT CAN BE DONE BY ADDING A BASIC FLUID TO THE SOLUTION LIKE AMMONIA.
3 NICOTINE FORMS, VERY DIFFERENT pH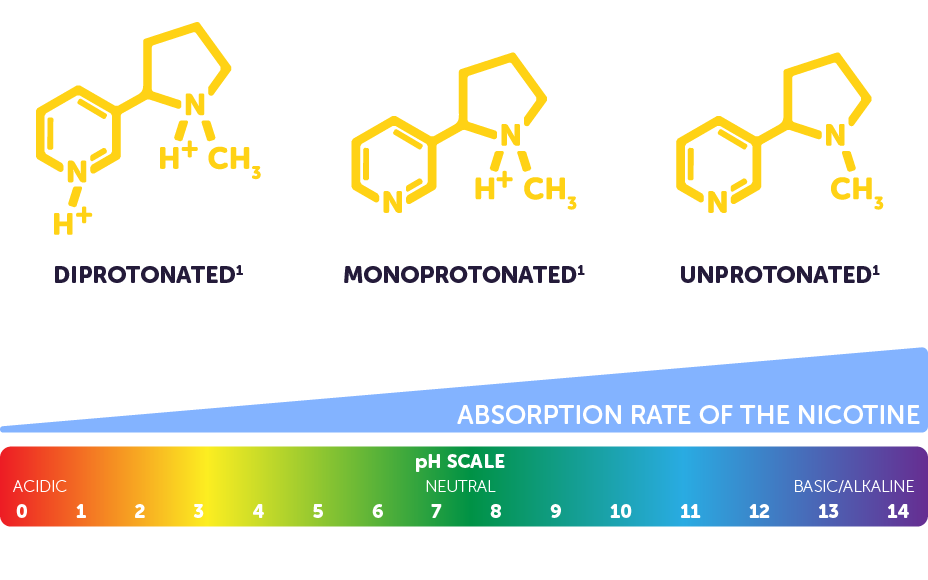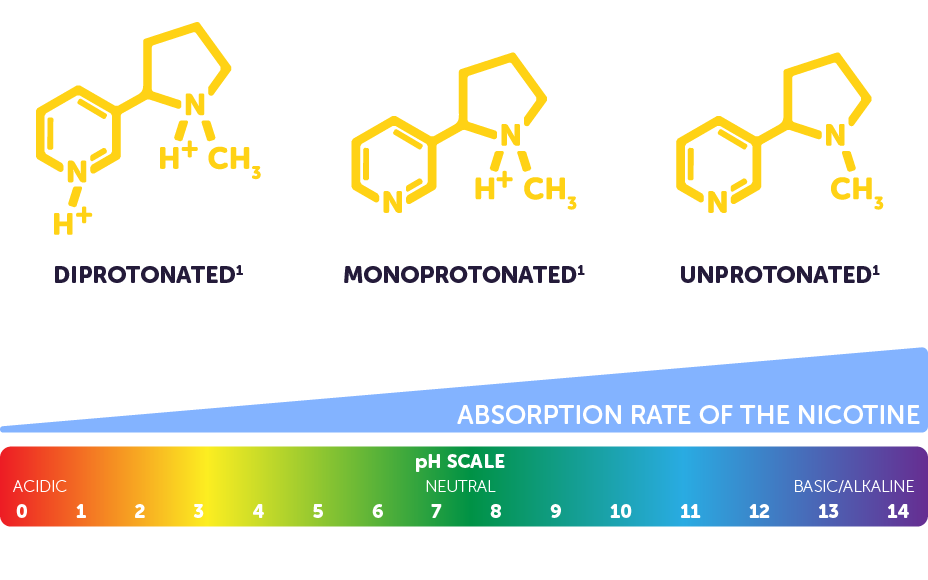 4
IN CIGARETTES, HARSHNESS IS BALANCED WITH USE OF ANESTHESIANT CHEMICALS THESE ARE NOT ALLOWED FOR
E-LIQUID MANUFACTURE. TO REDUCE HARSHNESS, E-LIQUIDS NEEDS LESS NICOTINE
BENZOIC ACID

CITRIC ACID

SACCHARIC ACID
...
BENZOIC ACID

CITRIC ACID

SACCHARIC ACID
...
Depending on the acid used in the ionisation of nicotine, the pH levels vary. With the right formula, a smooth hit is possible with higher nicotine levels whilst maintaining quick absorption.
SMOOTH AT HIGH LEVELS
EFFICIENT TO QUIT SMOKING
LONGER SHELF LIFE

MTL VAPING ONLY
LESS OPTIONS ON THE MARKET
MORE EXPENSIVE BY VOLUME

LESS EXPENSIVE BY VOLUME
SUITABLE FOR ALL VAPING STYLES
MORE FLAVOURS AVAILABLE
FASTER OXIDATION
TO BE AVOIDED AT HIGH LEVELS
SLOWER ABSORPTION