So you're ready to try vaping. The start of your vaping journey can be a bit rocky if you don't know where to begin. First, you'll need to choose a vape. But which kit should you choose? There are different vape kits out there from vape pens, standard box kits, pods and disposable kits. Different vapes have an intended use and can also be used for different styles of vaping. Our Introduction to Vaping for Beginners will go over the basics so you can hit the ground running. Our end goal is to help you cut through all of the noise and help you pick the right vape for you.
You've got a handful of different types of vaping devices to choose from. As earlier mentioned, there are vape pens, standard box kits, pods and disposables. Choosing between different types of vapes depends on your personal preference, intended use and where you are in your vaping journey.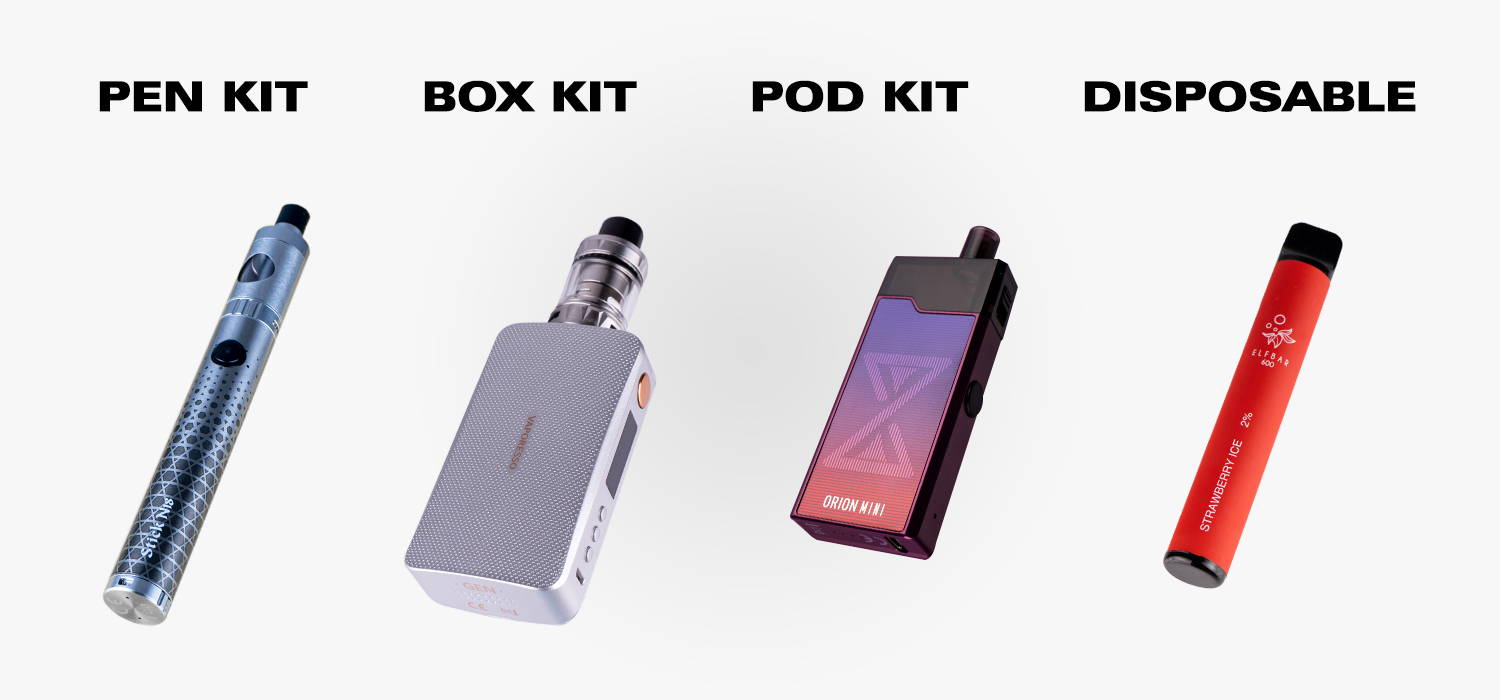 Vape pens are pen shaped vapes that offer a degree of compactability as they are generally very slim. Due to their compact size, vape pens often have smaller batteries and are easy to use. When compared to vape mod kits and vape pods, vape pens often cost less making them perfect for new vapers. Vape pens can offer mouth to lung, direct to lung, or even a combination of both vaping styles depending on the pen you choose and the vape coils it's compatible with. Utilise a mouth to lung vaping style option and enjoy a throat hit whilst you inhale and modest clouds when you exhale. Or choose a direct to lung vaping style which offers a looser inhale without throat hit, but coupled with a monstrously cloudy exhale. If you like the sound of switching between both styles, you don't have to choose between the two. You can have both if you choose the right kit! If you're not sure about mouth to lung and direct to lung vaping we'll explain both vaping styles in more detail later in the guide.
Vape box kits come in a box shape design and are bulkier than vape pens. Vape mod kits can be small, medium or large in size but often appeal to vapers who want a cloudy vaping experience. These advanced vape kits contain bigger batteries that support their ability to dish out a massive smoke screen on the exhale. Vape box kits are also more technologically advanced as they give you the ability to customise the way you vape with modes like temperature control, variable wattage or TCR (Temperature Coefficient of Resistance) modes, just to name a few. For this reason, we recommend box vape kits for advanced vapers as they are not as straightforward as pen, pod and disposable vape kits. If you want a crazy amount of vapour production and the ability to have more control over the way you vape, a vape box kit will be the best kit for you.

Vape pods like their name suggest, are vapes that contain refillable or pre-filled pods, unlike vape pens and kits which are equipped with vape tanks/atomisers. Vape pods accommodate both mouth to lung and direct to lung vapers. They're user-friendly and are extremely compact which means they'll fit effortlessly in your bag or pocket without taking up too much space.
Lastly, disposables vapes are extremely popular in the vaping community for their ease of use and compactibility. Disposable vapes come in a mouth to lung vaping style and resemble the size of a cigarette but with added width, usually around 16mm in diameter. Depending on the brand of disposable vape you choose and how often you vape, you'll get approximately 2 days of use before you have to dispose of it and replace it with a new one. Disposable vape kits come prefilled with vape juice and are ready to use right out of the package. Disposables can be fired up with a simple inhale.
As promised, let's get into vaping styles. If you choose the wrong kit or the wrong style, it will break your experience with vaping. Simply put, there are two main vaping styles: mouth to lung and direct to lung which is commonly referred to as sub-ohm vaping. Mouth to lung is often referred to as MTL and direct to lung DTL. Mouth to lung vaping style is similar to that of traditional smoking with a slightly restricted meaning after you inhale vapor from the mouth piece, the vapour resides in your mouth, where you'd have to inhale to get the vapour into your lungs as you would with smoking. This also means mouth to lung vaping will give you the same throat hit you'd get from smoking. Upon inhaling the vapour into your lungs, you'd then exhale and expel a modest amount of vapour. Mouth to lung vaping styles give you a wide range of customisation when experimenting with different mouth to lung vaping coils. MTL coils can range from 1.0ohm to 2.0ohm coils. The higher you go in resistance, the stronger your throat hit will become.
The second vaping style is direct to lung. Direct to lung vaping gives off a much looser draw on the inhale. After you inhale into the mouthpiece, the vapor travels directly into your lungs. This means the vapor travels into your mouth, and goes straight to your lungs which eliminates the need to inhale again. After your inhale, you'd then simply exhale. When you exhale, you'll notice a large amount of vapour. Massive amounts of vapour appeal to cloudchasers who like to perform vape tricks or simply like the idea of seeing tremendous amounts of vape exhaled. You can also vape using a restricted direct to lung vaping style which means you're using a vape coil that is 0.8ohm or 0.9ohm resistance level. Restricted direct to lung vaping produces a tighter draw on the inhale and requires you to use coils with higher resistance levels. In addition to a tighter draw, restricted direct to lung coils will give you a good amount of vapour on the exhale giving you the best of both worlds when it comes to direct to lung and mouth to lung vaping.
Now that you have a general idea about what types of vapes are out there and what each one is used for, you should be able to decide which one would work best for you. If you want a vape kit that is for on the go use, you'll find a vape pen or pod kit best as they require you to change the power wattage only. Most pod kits and vape pens automatically detect which coil is attached and will determine what power wattage to operate on.
Disposable vapes are great for beginners who don't want to give vaping a try without fully committing to a vape juice or vape kit. Disposables are also great for use whilst traveling as they take up a minimal amount of space and you don't have to worry about replacing parts like the vape coil, tank or vape juice.
Vape box kits are more advanced as they give vapers the ability to customise their vaping experience. If you're already familiar with vapes and want to tailor your vape, vape box kits will be your next transition into the vaping scene. You'll have options to change things like temperature control, wattage output, pulse mode, bypass, TCR modes and more.
CHOOSING A VAPE JUICE FOR YOUR KIT
It's important to buy a vape juice that is compatible with your vape kit. Vape juices come in shortfills, nic salts, 50/50 freebase. Shortfills come in a 50ml and 100ml bottle and contain a specific ratio of VG and PG which are the two main ingredients that make up e-liquids. VG is short for vegetable glycerin, is thicker in consistency responsible for your vape juice's delectable flavour. PG, or propylene glycol, is thinner and is responsible for giving you that pronounced throat hit when you inhale. Also important to note that VG and PG are both food grade used in products such as medications, beverages and asthma inhalers. Shortfills either come in a 70/30 VG/PG ratio or a 80/20 VG/PG ratio. For example, a 70/30 VG/PG shortfill ratio contains 70% VG and 30% PG and a 80/20 VG/PG ratio contains 80% VG and 20% PG. Which ratio you choose depends on how much flavour and vapour production you want to experience. Shortfills also come nicotine-free which means you've got the option to vape them nicotine-free or add your desired dose of nicotine to add some edge. You'll also notice shortfills are not filled all the way to the top. This space is reserved for nicotine shots. Nicotine shots are usually flavourless and won't impact the flavour of your shortfill. Nicotine shots come in a variety of nicotine doses from 18mg to 20mg. Shortfills are compatible with vape coils that are 0.6ohm and under.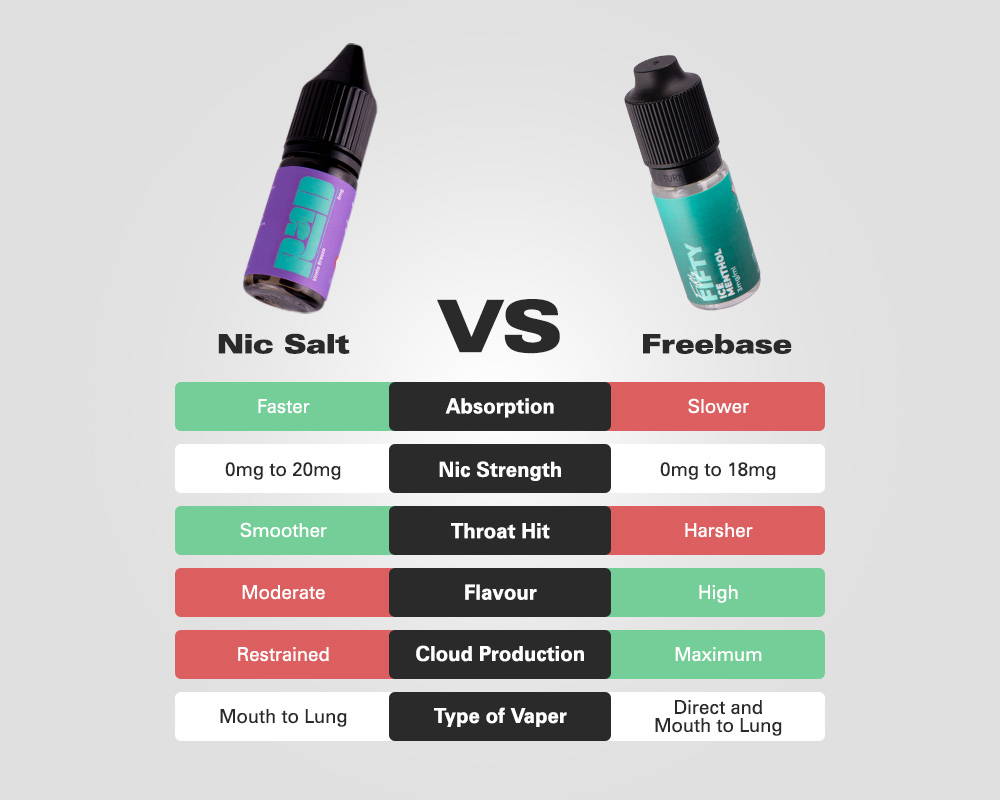 Nicotine salts and 50/50 vape liquids are higher in PG which makes them thicker. Nicotine salts are made using the purest form of nicotine and are less harsh when on the inhale. This means you won't experience a harsh throat hit like you would smoking a cigar or cigarette. 50/50 PG/VG vape juice combinations are made of 50% PG and 50% VG. When using 50/50 vape juices, you'll notice a prominent throat hit on the inhale like you would get with traditional cigarette smoking. Both nic salts and 50/50 e-liquids are compatible with vape kits that come with a vape coil that is 0.8ohm or higher, producing less amounts of vapour, as both liquids are thinner and heat up much quicker than high VG vape liquids.
With that being said, you've got a lot of options to choose from. If you're still not sure as to which vape to choose, we've put together a list of starter kits you can look at that might tickle your fancy. We've listed vape pens, standard box kits, pods and disposable vaping devices to give you a good range of options to choose from.
The Aspire PockeX Pen made it onto our list because it's a great all around kit. It's compact, user-friendly and at a £19.95 price point, it won't break the bank. If you're not sure what vaping style you want to commit to, the PockeX Pen comes with both mouth to lung and direct to lung coils meaning you can switch between vaping styles depending on your preference. The 1.2ohm mouth to lung coil will give you a restricted cigarette like draw, and the 0.6ohm direct to lung coil will give you a much looser draw and cloudy exhale. The Aspire PockeX Pen also comes powered by a 1500mAh battery which will set you up for an all day vaping experience.
Smok's Stick N18 vape pen has an elevated look, made from hefty stainless steel. The Smok's Stick N18 also comes with 0.6ohm coils for a loose inhale and cloudy exhale however it also comes with a 1.4ohm mouth to lung coil which means your inhale will be slightly more restricted due to the higher ohm resistance when compared to the PockeX Pen's 1.2ohm coil. The Smok Stick N18 will also give you the ability to adjust the airflow that enters your vapes coils which give you more of a restricted or unrestricted inhale. It also comes equipped with a 1300mAh battery that is strong enough to power through your day and at a price point of £24.95, the Stick N18 is truly a steal!
The Vaporesso Target 100 vape kit is a stout looking vape kit that will provide you with insane amounts of vapour on the exhale. It comes with 0.2ohm and 0.3ohm coils which make it ideal for flavour and cloud chasers. The Target 100 vape kit is powered by a single 18650 or 21700 battery (both batteries sold separately). When using the 21700 battery, you'll be able to operate the kit at its fullest potential of 100W. The Vaporesso Target 100 vape kit also has a triple adjustable airflow option which gives you the ability to customise your inhale from restricted to unrestricted in seconds.The Target 100's wide range of vaping modes and lenient variable wattage makes it a great kit for only £35.95.
4. Geekvape aegis s100 (solo 2)

The Geek Vape Aegis S100 (Solo 2) vape kit, like the Vaporesso Target 100 vape kit, requires you to add an external battery to operate the kit. A single 18650 battery (not included) will allow you to fire up the device from 5-100W which gives you the freedom to adjust your vape settings to your choosing. The Aegis S100 comes with 0.2ohm and 0.25ohm coils which will give you immense amounts of vapour on your exhale. You'll also have the option to further customise your vaping experience with Wattage, VPC, TC, TCR and Bypass modes which control the flavour and vapour your kit expels. Enjoy the The Geek Vape Aegis S100's IP68 ratings (waterproof and dustproof), various vape settings and safety protections for only £49.95.
The Vaporesso XROS Nano pod kit had a sleek and modern design sitting at 63.1mm x 48.8mm 14.9mm. Store the Vaporesso XROS Nano pod kit in your bag, pocket, or around your neck with the included lanyard. The XROS Nano comes with 0.8ohm and 1.2ohm coils which will make a restricted inhale and a modestly cloudy exhale. Powered by a 1000mAh battery, the XROS Nano will allow you to get through the day without worrying about charging up your device. The XROS Nano pod kit is a great on the go kit that's sleek in design, travel friendly and affordable at £19.95.
The Elf Bar FB1000 pod kit was created by Elf Bar, the creators of the popular Elf Bar disposable vape. The Elf Bar FB1000 pod kit comes with a 0.8ohm coil which supports a restricted inhale and mouth to lung styled vaping style. It's powered by a 1000mAh battery which will withstand even the longest vaping sessions. It's coils are also meshed which means you'll experience richer flavour throughout the inhale and exhale. You'll also get a lanyard with Elf Bar FB1000 pod kit which makes it easier to travel with and between commutes. Order the Elf Bar FB1000 pod kit for only £19.95.
The Elf Bar 600 disposable is an extremely popular disposable device that doesn't leak and comes in an array of different flavours. The Elf Bar 600 will provide you with 20mg of ultra-smooth nicotine salt, 550-600 puffs per device and is powered by a 550mAh battery. If you like vape juice flavours like Cream Tobacco, Kiwi Passion Fruit or Strawberry Ice Cream, the Elf Bar 600 will be the perfect starter kit for you. At only £4.95 per individual device, the Elf Bar is an inexpensive way to try different vape juice flavours to get a feel for what flavours you fancy. Buy one Elf Bar 600 for £4.95 or take advantage of our mix and match deal and get 5 for £20.
The Elux Legend Mini disposable vape is one of the newest disposables to successfully hit the market. It features a 500mAh battery and will give you approximately 600 puffs before it's time to swap out the device for a new one. The Elux Legend Mini comes in unique vape juice flavours like White Peach Razz, Mr Blue (which tastes like a blackberry and blueberry medley) and Unicorn Shake (which is a cheeky blend of apples, banana and strawberry milkshake). Enjoy 20mg of nicotine per device which is equivalent to 20 cigarettes in a highly compact disposable device.